Sunday, October 16, 2005
Note: For those who reached this post looking for the latest information on Hurricane Wilma, especially the computer models, you can get the newest maps by clicking on the images below (which are now out of date) -- you will be sent to the pages where the latest maps are located. Or look at the sidebar on the right, under the red "storm watch" banner, where you'll find thumbnails of all the latest maps. (The thumbnails can also be clicked on to get larger images.) -- Ed Fitzgerald


(Sun 16 Oct 11:13pm): Tropical Depression Twenty-four, expected to turn into Tropical Storm Wilma on Monday morning, and then Hurricane Wilma sometime on Tuesday: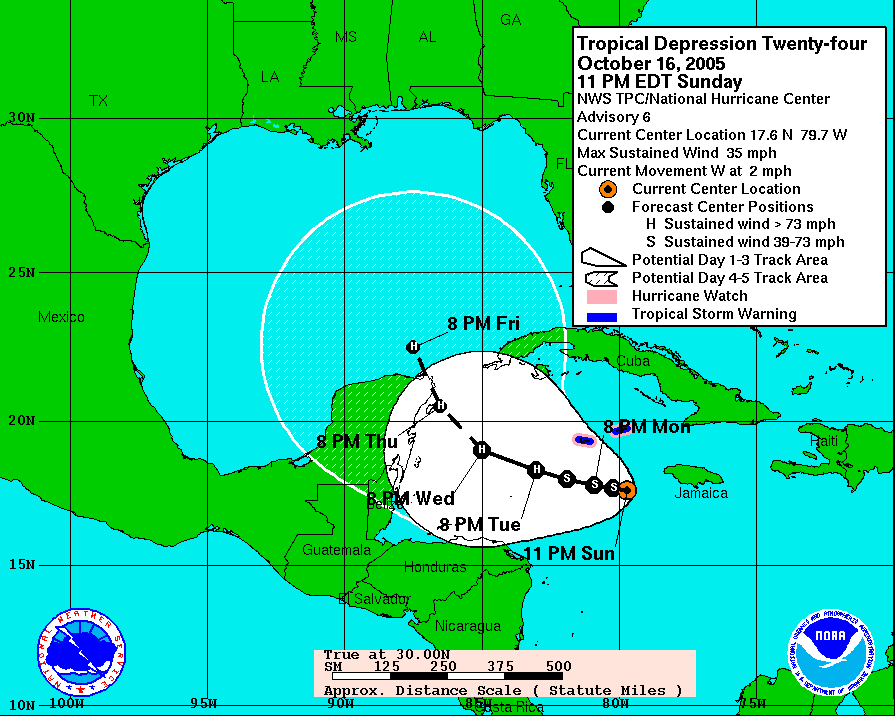 [Click on image for latest map]

This map shows the probability of tropical-storm force winds in the next 120 hours (5 days):



[Click on image for latest map]

I guess we'll know more by Friday, when the storm has cleared the Yucatan Peninsula, but the last thing the Gulf Coast, especially New Orleans, needs right now is another storm, whether it's still a hurricane or has stepped back down to a tropical storm -- even a damned tropical depression would be very unhelpful there.

I'm going to reopen some of the maps in the "storm watch" box on the sidebar.

Update: It looks like the water is plenty warm enough in the Gulf to feed any tropical storm that heads across it, so I guess we shouldn't count on it weakening very much after it leaves the Yucatan (just the opposite):



[Click on image for latest (Gulf of Mexico 14 KM Analysis - Sea Surface Temperature)]



[Click on image for latest (Derived Sea Surface Products: NLOM SSH Total)]

(Mon 17 Oct 2:20am): The current computer models (see below) show the storm crossing the Yucatan peninsula from east to west, instead of just grazing its northeast coast as indicated above, so I would expect the offical tracking path to change somewhat tomorrow (since it is to some extent based on the models). This new path would not only head it away from the devasted parts of the American Gulf Coast, towards the Mexican Gulf coast, but might also sap some of its power as well, and move it across a part of the Gulf that's less warm, so it has less opportunity to rebuild its strength.



[Click on image for latest map]

(6:15am): As of the 5am advisory, TD 24 is now officially Tropical Storm Wilma, the 21st named storm for the season in this area (and the last of the reserved names -- if there's another they'll start using the letters of the Greek alphabet: alpha, beta etc). The official forecast track has shifted very slightly over the Yucatan Peninsula, but still shows the storm pointing directly at New Orleans once it clears land (although I'm sure that steering winds will control its actual path). The computer models continue to show it passing more fully over Yucatan.

(10:43am): The computer models are now split, two older runs still showing Wilma crossing the Yucatan, but the three most recent ones show it bending to the right, skirting the western tip of Cuba and then heading for the west coast of Florida, somewhere between Fort Meyers and Tampa Bay. That's good news for the Gulf, not so good for some Floridians.

Despite the change in the models, the official forecast track hasn't been significantly changed, due to forecasters' low confidence in the models showing a move to the northeast.

(5:20pm): As of the 5pm advisory, the official forecast track (following the computer models) shows Wilma turning to the northeast once it clears the Yucatan peninsula, which points it at the west coast of Florida. We'll know in the next couple of days how much curvature they expect, which will determine where it hits, but at least the damaged areas of the Gulf Coast seem to be less in danger than as of last night.

(Tues 18 Oct 12:15am): It's still looking good for the Gulf Coast, and not too bad for Florida either. The current forecast track points Wilma at the Everglades after skimming by the Keys (which wouldn't take a direct hit, but would be on the dirty side of the storm, where the storm surge is worse).

(2:55am): All the models now agree that Wilma will turn towards Florida, missing New Orleans and the coast to either side of it. Whether it hits the mainland or just passes over the Keys is still to be determined, but, barring some change in the track, it looks like the folks in the Gulf Coast won't have to brace for yet another storm.

Ed Fitzgerald | 10/16/2005 11:13:00 PM | | | del.icio.us | GO: TOP OF HOME PAGE

---
---