Wednesday, March 01, 2006
According to an article in the New York Times a couple of weeks ago, New York City is expected to reach a population of 9.4 million by 2025, less than 20 years from now, and hit 9.5 million by 2030. (The current population was just over 8 million at the last census, and, according to the article, is estmated to be about 8.2 million today -- 8,168,338).

Apparently, the city's growth has been in large part due to immigration:
Growth in the 1980's and especially the 1990's has been largely driven by immigration. Foreigners are expected to account for much of the growth in the next two decades, growth that, according to the forecasts, would keep New York in first place among the nation's cities and maintain the New York metropolitan region either as the largest or, at least, tied with Los Angeles.
(Now there's the shocker in the piece -- the implication that it's possible that LA will catch up with NY in population in 20 years or so.)

Whatever the reason for the growth, considering that when I grew up in the suburbs north of the city, the big story was the exodus from the City of the middle class, especially the white middle class, and that New York came perilously close to bankruptcy in the 1970's (remember the headline in the Daily News "Ford to City: Drop Dead" when the president refused to help the city avoid default), the City's return from the near-dead has been pretty extraordinary.


Of course, as the article points out, as New York gets larger, it also gets wealthier, and as it gets wealthier, it gets more and more expensive to live here, especially in most of Manhattan, so that a poor working slob like myself finds it more difficult to make ends meet.

Still, as often as the topic of leaving the city comes up in family conversation, or of leaving Manhattan for Brooklyn or Queens, after 30 years here it's now hard to imagine living anywhere else.

(BTW, as of the last census, New York's population density -- 8,008,278 people in 303 square miles -- was 26,502.9 people per square mile. Manhattan (New York County) had 1,537,195 people in 23 square miles, for a density of 66,940.1 people per square mile. According to the Census Bureau, our estimated 2004 population is 1,562,723, and, according to the article in the Times, it's expected to go to 1,694,200 by 2025, which will be a population densty of 73,660.9 -- pretty squishy.

Hey, Angelenos! -- give us a call when you've got density figures like that. Then you'll be a real city.)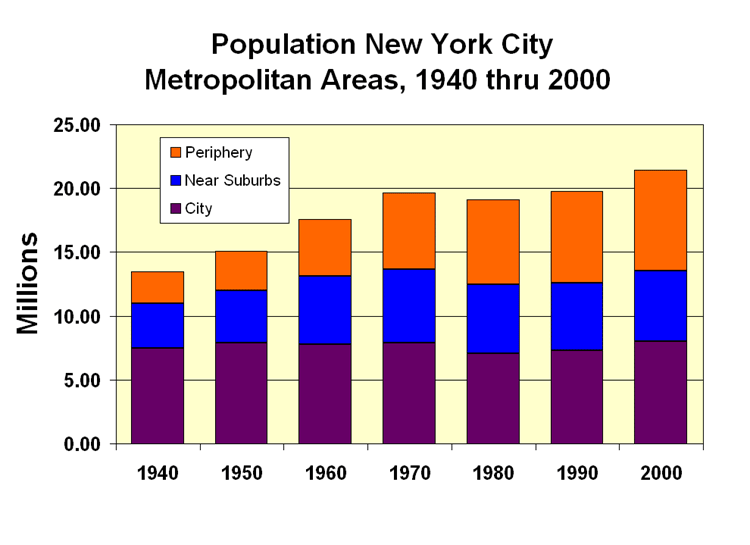 One thing the article didn't deal at all with was the growth of the suburbs and exurbs which together with the City make up the Consolidated Metropolitan Statistical Area. In general, they've been out performing the City in growth rates for decades, but are apparently reaching something of a saturation point.

I guess that will make my relatives who live up there happy, as increasing population density has brought more and more of the problems usually associated with cities much closer to their doorstep. Me? I think if you're going to have the problems anyway, you might as well have the advantages that the density of a traditional city brings.

Update (3/5): According to Census Bureau projections, in 2030, Florida will pass New York as the third most populace state (after California and Texas), by a substantial margin. Also North Carolina and Georgia will move up to 7tha & 8th place (from 11th & 10th), pushing Ohio down to 9th, and Arizona moves from 25th to 10th, pushing Michigan from 8th to 11th.

Other winners are Utah, Idaho, Washington, Oregon and Alaska, so it looks like the Pacific Northwest is in for some population pressures. Losers are DC (losing almost a quarter of its population!), North Dakota, West Virginia, Iowa, Pennsyvania, Wyoming, Nebraska and Louisiana (not even accounting for Katrina). [via Atrios]

Ed Fitzgerald | 3/01/2006 03:38:00 AM | | | del.icio.us | GO: TOP OF HOME PAGE

---
---