Saturday, September 17, 2005
(Sat Sept 17 11:09pm): I'm in no way a meterologist, so please take this with abundant caution due to my ignorance. Still, take a look at the National Hurricane Center's 3- and 5-day cones for Tropical Depression 18 as of Saturday night: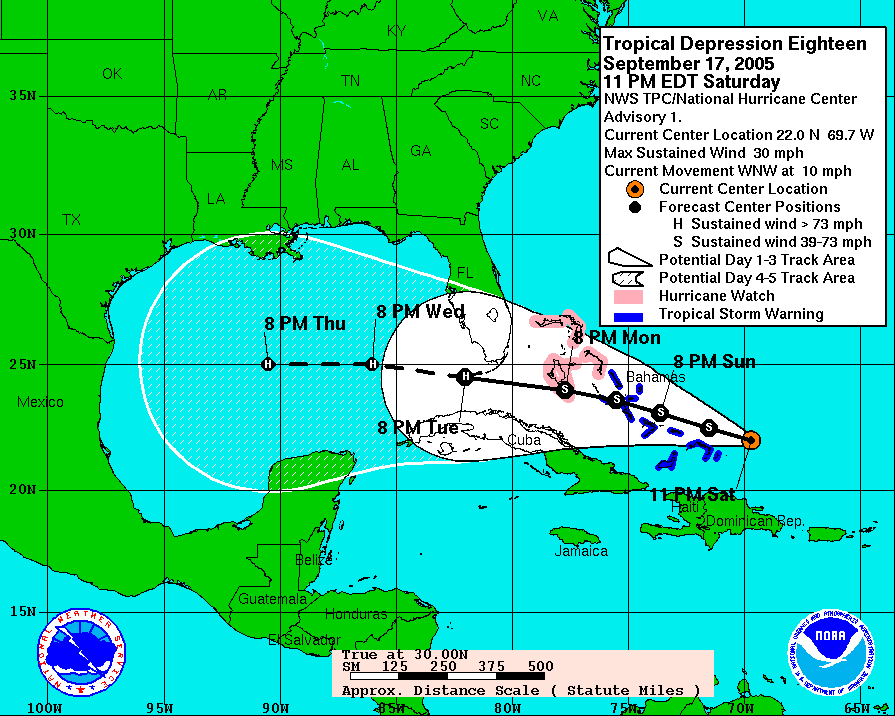 [Click on the image for the most current version of this map.]

Here's the roughly equivalent map for Katrina: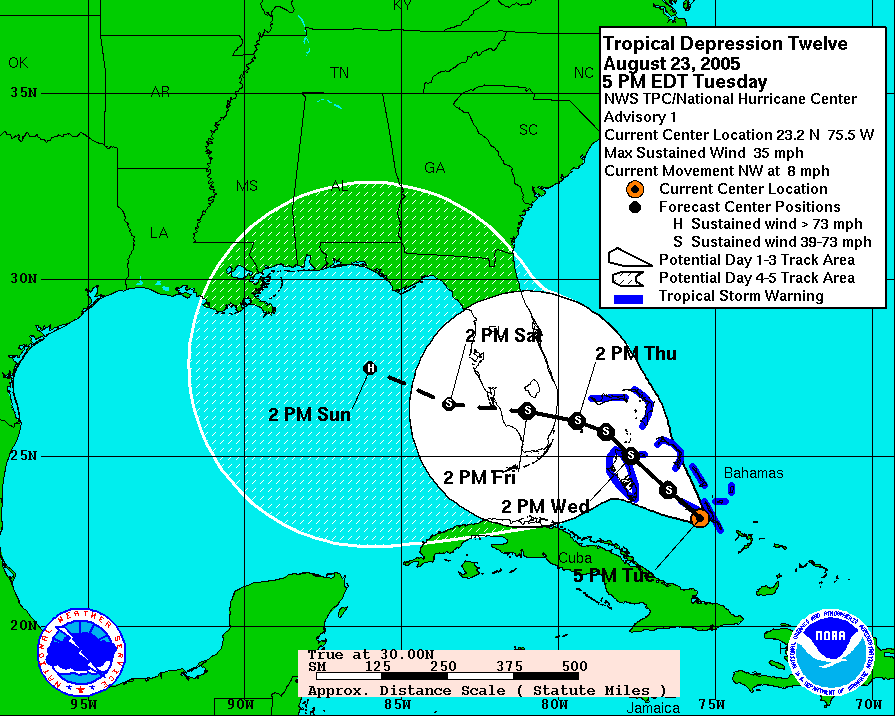 Katrina came in somewhat farther north than 18 is, and small differences can apparently make big differences in how a storm moves, but it's still rather disconcerting to see another storm taking a very roughly equivalent path as Katrina, when the Gulf coast still lies devastated, and New Orleans' flood control system is damaged.

I hope that nothing comes of it.

Here's another map, showing tropical storm force probabilities. It shows New Orleans, Biloxi and Gulfport all within the 10 - 20% probability area to see tropical storm force winds sometime in the next 5 days.



[Click on the image for the most current version of this map.]

At least one computer model puts the storm closer to New Orleans.



[Click on the image for the most current version of this map.]

I assume everyone is keeping a (excuse the expression) weather eye on this storm to see how it develops.

(Sun Sept 18 5:00am): As of the 5am update, the projected 5-day track for TD18 had shifted south somewhat, avoiding New Orleans and the Gulf. It was expected to reach tropical storm force by Monday 2am, before it began passing by Florida, near the Keys.

(Sun 3:00pm): Incidentally, just going by a visual inspection of the various computer models' predictions for Katrina, it looks as if the GFDL model (the red one above) was the most accurate of them -- with the NOGAPS (light blue) close behind it. (NOGAPS came closer to the correct landfall, but was still off by almost 150 miles, putting it near Mobile. GFDL had it even farther down the coast, near Valparaiso, Florida.) The BAM Medium model -- the yellow one which shows the TD18 approaching the closest to New Orleans -- was among the most inaccurate, which bodes well for New Orleans with TD18 (soon to be Tropical Storm Rita).

(And, as long as I'm on the subject, but not apropos of anything regarding New Orleans or the Gulf Coast, Tropical Storm -- soon to be Hurricane -- Phillipe is aimed directly at Bermuda.)

(Mon 3:30am): All 5 computer models are now showing Rita (aka TD18) heading towards Galveston. If they're right, it would make landfall there sometime on Saturday night.

(Mon 2:30pm): As of this morning's 11am advisory, Rita has reached a point much more similar to the one for Katrina I posted above (second image), and the penumbra of the 5-day forecast cone has shifted to include New Orleans, although the most likely landfall is still near Galveston: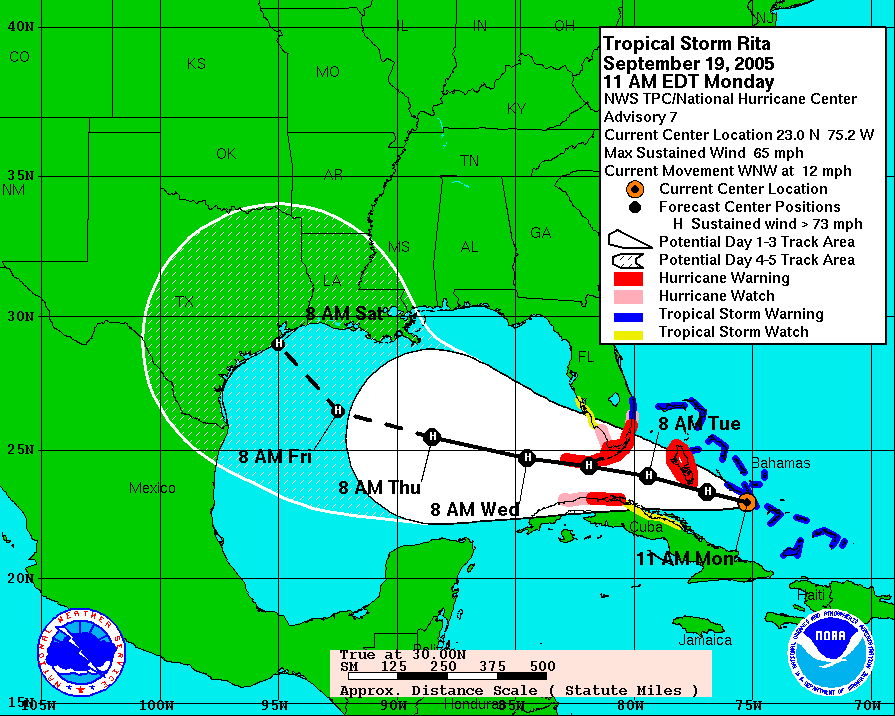 [Click on the image for the most current version of this map.]

Mayor Nagin of New Orleans really should reconsider his decision to re-open parts of the city. I understand, I think, why he wants to take the first steps back to normality as soon as possible (he's hoping to create facts on the ground which will sap the strength of arguments against New Orleans being rebuilt), but the timing is wrong, not only because of the conditions in the city, but because of the potential for Rita to cause even more havoc.

[Post re-organized Mon Sept 19 9:20pm]

(Mon 9:30pm): The charts now put New Orleans in the 30-40% probability band to receive tropical storm force winds, and in the 5-10% band to receive hurricane force winds. Mayor Nagin has suspended the re-opening of the city.

(Mon 11:30pm): There a discussion in Kevin Drum's comments about Rita's track, including contributions from some real-life meterologists.

One point made in that discussion (which everyone should be warned contains a significant amount of right-wing b.s.) is that it won't require Rita to make landfall in Lousiana for New Orleans to be affected. Depending on how large it gets, and how powerful, there could be significance for the city even if it lands farther west. It may be that the hurricane would have to take a big turn to the southwest in order for New Orleans not to feel its effects.

(Mon/Tue 12:00 mid): The Army Corps of Engineers on the state of New Orleans water defenses:
The U.S. Army Corps of Engineers is performing a detailed assessment of about 350 miles of hurricane levee and developing a comprehensive, prioritized plan to repair it and the pumping stations that support New Orleans and surrounding areas.

"The system in its present condition does not ensure that the city will be protected from flooding resulting from storms or hurricanes," stressed Col. Duane Gapinski, Task Force Unwatering commander.

Gapinski says that residents may be placing their lives and property at risk by re-entering flooded areas until additional emergency levee repairs are made. State and local leaders are being informed as assessments are being completed and repairs are made. The Corps continues to work with state and local leaders to make assessments and repairs of the system.
(Tues 12:50am): Billmon points out that
if the current track were to hold, Rita would make a direct hit on Galveston Bay -- site of what is probably the largest petrochemical infrastructure complex in the western hemisphere, and front door to the USA's 4th largest city.
The petrochemical industry is, of course, already operating under its normal capacity due to Katrina. (Washington Post)
Four major Gulf Coast refineries remain idle because of Katrina, according to the Energy Department. Even before that storm, analysts had said refining capacity worldwide was struggling to meet demand.

Now analysts say they are concerned that the developing tropical storm could hit Texas, home to about 27 percent of U.S. refining capacity, according to the Energy Department.

D. Mark Routt, an analyst with Energy Security Analysis Inc. of Wakefield, Mass., said Houston is an "extremely important hub" for pipelines and other oil industry operations, adding to concern about storm damage.

Analysts said that they were concerned about damage to oil production in the gulf but that those concerns were secondary to refining.

Nearly 56 percent of daily oil production in the Gulf of Mexico remained off line yesterday because of Katrina, amounting to almost 838,000 barrels a day, according to the Minerals Management Service.
As a result, oil prices jumped up:
Oil prices soared yesterday in the largest one-day gain ever as fears mounted that a developing tropical storm could damage oil operations in the Gulf of Mexico and Texas.

U.S. benchmark crude for October delivery gained $4.39 a barrel on the New York Mercantile Exchange to close at $67.39. That was the largest one-day dollar gain since oil started trading on the exchange in 1983, according to the Energy Department. The oil price closed at a record $69.81 on Aug. 30.

Futures prices for gasoline, natural gas and heating oil also rose yesterday.
So it's reasonable to assume that gas prices will soar again if Houston suffers a direct hit.

(Tues 5:15am): As of the 5am advisory, it looks as if the forecast models are calling for a landfall farther down the Texas coast, between Galveston and Corpus Christi, possibly moving the area of the Gulf Coast striken by Katrina farther out of reach of the worst of the storm.

(Tues 5:30pm): The National Hurricane Center 5-day projection (see first map below) still shows Hurricane Rita (which is category 2 right now) making landfall about halfway between Galveston and Corpus Christi, but the computer models (second map) are split between that place (GFDL & UKMET), Galveston (GFS & BAMM) and Brownsville (NOGAPS). Obviously, there are better and worse places for Rita to hit (the area between Corpus Christi and Brownsville is reportedly underpopulated, and Hurricane Bret, a category 4 storm, hit there in 1999 without any deaths), but given the crippled condition of New Orleans and that area of the Gulf Coast, the farther west it is, the better off for everyone. Of course, a direct hit on Houston would put the Orleanian evacuees there through their second major weather-related trauma in just a few weeks. Still, that's preferable to putting New Orleans through more flooding.

(Tues 6:00pm): From the latest Discussion issued by the NHC:
RITA CONTINUES TO BE STEERED WESTWARD AT ABOUT 13 KNOTS...BY A LARGE RIDGE OF HIGH PRESSURE ORIENTED EAST-WEST OVER THE SOUTHERN UNITED
STATES. THE RIDGE IS FORECAST TO MOVE EASTWARD LEAVING A WEAKNESS IN THE WESTERN GULF OF MEXICO. THIS PATTERN SHOULD FORCE RITA TO TURN GRADUALLY TO THE WEST-NORTHWEST AND NORTHWEST BEYOND 48 HOURS TOWARD THE TEXAS COAST.
Again, I'm not in any way a meteorologist, or even knowledgeable about the subject, but I assume that if Rita were to stall, the way Katrina did, it would not only give it more time to intensify, but the ridge guiding it would be farther to the east when the storm got out into the Gulf, which would make its turn bring it closer to the Katrina-affected areas.

If that's true (and perhaps someone who knows something about the subject can put me straight), then we should be watching to see if it continues to move away from the Keys.

BTW, it's amusing to see people in the media paying more attention to Rita's effect on the Keys than is really warranted. Wolf Blitzer was interviewing someone who stayed behind in Key West, and wanted to know why -- in the light of what happened with Katrina, why did the guy stay behind? The caller, a bar owner, seemed a little non-plussed; his attitude was, it's a category 1 hurricane, we've been through them plenty of times, this is nothing special -- and I think he was right.

Because of Katrina, and especially because of the governmental fuck-up in dealing with its aftermath, everyone's super-sensitive to the effects of hurricanes (the same thing happened in North Carolina with Ophelia: FEMA had armies of people standing by to deal with a fairly normal occurence, a category 1 storm hitting a barrier island), but Katrina was important because
it was a massive category 4 storm, and might have hit as a category 5 if it hadn't weakened just before landfall, and



it was heading straight for New Orleans which is below sea level and protected by a flood control system only intended for a cat 3.
Since neither of these apply to a category 1 storm hitting the Florida Keys, Blitzer's concern is misplaced -- which is why my attention here has been put on what I think is important, which is where will Rita hit, and what effect will it have on New Orleans and the Katrina-ravaged areas of the eastern Gulf Coast. That's really what's important about this story, not how many power outages there are in the Keys.

(I hit on Blitzer because he's such a satisfying target, but he's representative of the media in general.)

(Wed Sept 21 1:00pm): Rita is now category 4, with winds of 140 mph, and the computer models are currently agreed that landfall will be between Galveston and Corpus Christi, with several putting it quite close to Corpus. (I've heard quite a bit about evacuations in Galveston, but nothing about Corpus Christi, a fast-growing city of almost 300,000 people.)

A hit to the south and west of Galveston puts Houston on the "dirty" side of the storm, where there are stronger winds and larger storm surges.

(Wed 5:00pm): Rita is now category 5, with winds of 165 mph, a monster. New forecast tracks should be coming out very shortly, but at the moment it's still heading to the west of Galveston/Houston, putting those cities on the "dirty" side of the storm.

We know about Galveston being wiped out by the storm of 1900, and we've learned about New Orleans unique flooding problems, but guess what city was cited as having the worst flooding problems, second only to New Orleans?
A 1998 National Wildlife Federation study entitled "Higher Ground" ranked Houston and Harris County third and fourth of the top 200 repetitive flood loss communities in the United States. The only communities ranked higher are Jefferson Parish and New Orleans, both of which are below sea level.
More here.

(Wed 7:30pm): Rita is now the fifth third most intense hurricane on record, just behind ahead of Katrina. (8:45pm: Corrected here.)

(Wed 9:00pm): At least one of the tracking models now puts landfall directly on Galveston. The others spread out to the west a little, down to about Port Lavaca / Point Comfort, which is a major port, with a county population of about 20,000. (It's also a Texas Superfund clean-up site, due to contamination from the Alcoa plant there.)

(Wed 11:30pm): Maximum sustained winds are now 175 mph, and it's slowed down a bit, from 13 or 14 mph to 9 mph, and wobbled to the north. None of this is good news (although the NHC says that the slowing down is normal, due to the eye being reorganized). Rainfall is expected to be 8-12 inches with 15 inches in some isolated locations. The official forecast track now calls for landfall on the west end of Galveston, either a direct hit or just off of it, sometime early Saturday morning. It should land as a category 3 at minimum, but could be stronger.

(Thurs Sept 22 12:15am): Just one note: I began this post because I thought I saw a resemblence between Rita (back when it was Tropical Depression 18) and Katrina, and I was concerned about what that would mean to New Orleans and the part of the Gulf Coast devastated by the latter. Now it seems clear that Rita will, for the most past, steer clear of that area, and will instead hit somewhere in Texas, probably near Galveston. (I note that by the time Katrina had left the area of the Keys, the NHC's forecast track had an accurate read on where it would make landfall -- their advisory at 11pm EDT on Friday the 26th, about 52 hours before landfall, was substantially correct, and the next one, at 5am the next morning was dead on. Right now, Rita is about 50 some odd hours from landfall.

I'm going to close out this post and continue posting on Rita here.


[More Rita posts here.]



MAKE A DONATION TO THE RED CROSS HURRICANE 2005 FUND

Ed Fitzgerald | 9/17/2005 11:09:00 PM | | | del.icio.us | GO: TOP OF HOME PAGE

---
---